6 Tips To Kick Off the Holiday Season with Exercise
November 29, 2022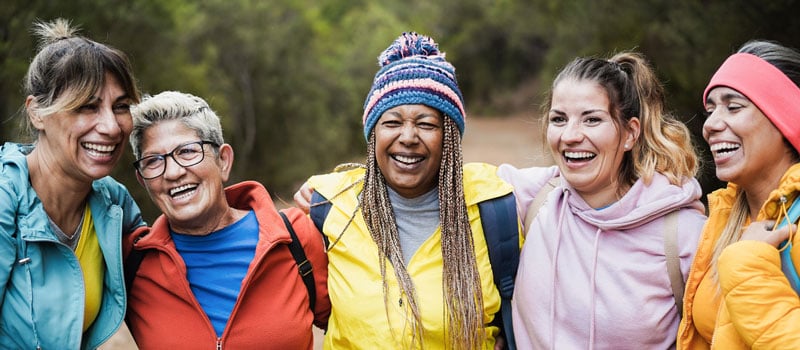 The holidays are often the busiest time of year for many people. Between the holiday shopping, family gatherings, work events, and parties, it can be hard to find time to fit in some much-needed exercise. While the holiday season is often a fun time of year, excessive eating, traveling, and socializing can take a toll on your body.
Exercising during the holidays doesn't need to take up hours of your day. You can incorporate some achievable, low-maintenance activities to keep you healthy and energized for the season. This article will discuss:
The Benefits of Exercising During the Holidays
6 Ways to Exercise During the Holidays


Benefits of Exercising During the Holidays
While it would be easy to make excuses to avoid exercising during the holidays, we don't recommend it. On average, experts say that people consume 4,500 calories on Thanksgiving. That's more than double what the recommended daily calorie intake is. Exercising is beneficial during any time of year, but is especially beneficial during the holiday season. Here's why:
Helps manage extra calories
Combats holiday stress
Gives a boost of energy
Reduces the amount of anxiety and

depression

Increases your mental well-being
Provides structure to your day
6 Ways to Exercise During the Holidays
If you experience a lack of motivation to exercise during this time of year, you're not alone. However, a combination of the following tips and a little willpower will give you a push in the right direction.
Plan Ahead
The best way to achieve a consistent workout routine during the holidays is to plan. We suggest using a workout planner, a to-do list app, or setting a reminder on your phone to stay on top of your goals.
If you're traveling to visit family and friends during upcoming holidays, book a hotel with a gym, or one that is located near a gym. Ask your family if they have fitness equipment you can use, or if they have a gym pass that allows them to issue a guest pass. If you prefer a more natural form of exercise, look for hiking, walking, or running trails nearby. Luckily, there are many forms of exercising, and there isn't one set way to go about it.
Involve Your Family
Are you someone who enjoys working out with other people? It can be more fun and motivating to do physical activities with a partner, or a group of people. This is an ideal option for those who want to prioritize their health, without losing valuable time with their family members.
Invite a family member or friend to join you at the gym, or organize a larger group to play a game of football. To help with motivation, there are great running apps to help you track your distance, calories burned, heart rate, and more.
Make Working Out Convenient
One of the biggest motivation killers is an inconvenience. If you have to make a huge effort to change your outfit or drive somewhere to grab your running shoes, you'll likely push off exercising for another day.
Even if you don't have exercise planned for the day, pack your running shoes and comfortable clothes in your car. If the weather is cold, be sure to dress accordingly, so that you are prepared for icy winter conditions. You may have some unexpected downtime during the day, where you squeeze in a 20-minute run.
Start In the Morning
An early morning workout can help set the tone for the rest of your day. Go for a power walk, a quick run, hit the gym, or stretch out those sore muscles. You'll be pleased to find that your overall mood will improve, you'll feel more energized, you'll be more focused, and you'll have more control over your appetite.
If you have the option of exercising at home, make use of that treadmill, exercise bike, or elliptical machine. The benefits of early morning exercise will carry over for the rest of the day, and help you get through some of the busiest holiday crazes.
Join a Holiday Run
The holidays are a great time to get involved with some fun runs. Join your local 5K holiday races for an exciting way to exercise. You can ask the entire family to get involved, so it feels more like an activity rather than exercise. There are even helpful apps to help you train for your first 5K!
Opt For Biking Instead of Driving
If the weather permits, we recommend you choose biking over driving. Not only is biking a great workout, but you may also be avoiding some dreaded holiday traffic. Furthermore, biking at night is a wonderful way to view your neighborhood's lights. To track your distance, download a GPS tracking app to monitor your distance, speed, and more. But, make sure you wear a helmet, reflective clothing, and have lights. In fact, think about festooning your bike in holiday lights!
Final Thoughts
With some planning, it's more than possible to fit in some exercise during the holidays. Small movements every day can greatly help you maintain your physical and mental health. However, it's equally important to listen to your body, and don't force yourself to exercise if you're not feeling up for it. Exercising should ultimately be beneficial, not harmful, so make sure you take it easy and enjoy time spent with your family and friends.
For more tips on exercising, visit us here to learn more!