4 Fun Strategies for Mixing Your Treadmill and HIIT Workouts
May 26, 2022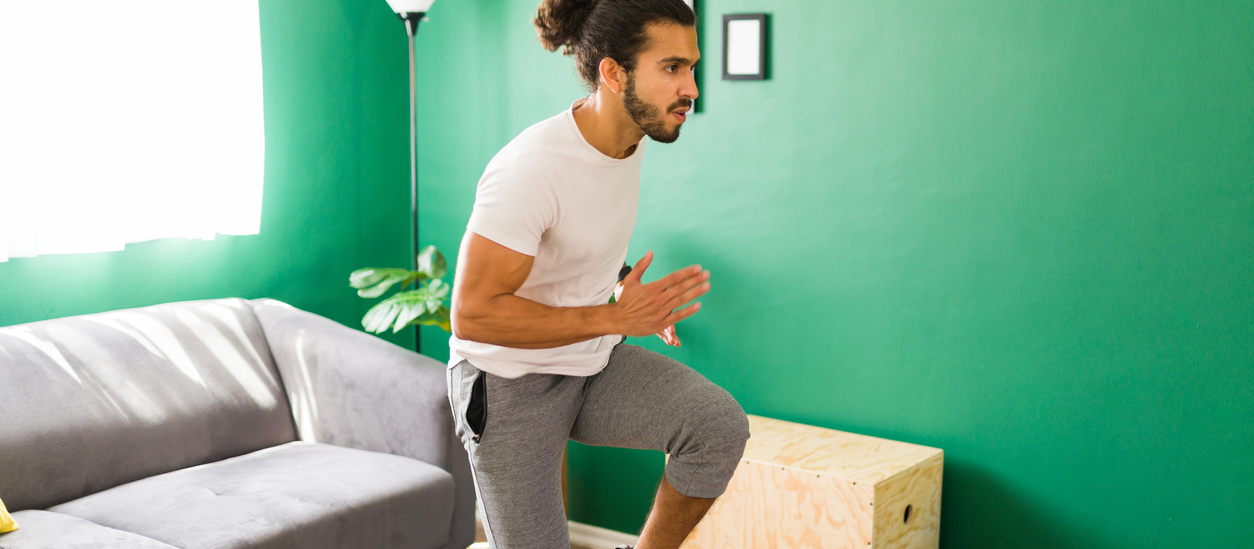 Staying fit is a challenge each of us faces individually. Your body, metabolism, and muscle tone will determine the right balance of cardio and HIIT you need to meet your goals. Should you focus more on mixed-muscle group High-Intensity Interval Training or cardio on your treadmill? Can you mix HIIT and a treadmill workout? The answer is yes, if you know what you're doing.
HIIT focuses on a variety of 30-second exercises that work out different muscle groups and keep your body at a steady rate of intensity – with scheduled rest breaks. Treadmill cardio is usually used much like going for a run indoors, meeting your own best pace and resting when you need to. How can you blend the two? We have four great ways to mix both good treadmill cardio and HIIT workouts to find the right balance for your body and goals.

1. Hop On, Hop Off
If you're wondering how to do HIIT workouts like burpees and mountain climbers in addition to treadmill time, you're probably thinking of the hop-on, hop-off method. This method uses an HIIT timer while integrating both 30-second aerobic workouts and 30-120 second rounds on the treadmill.
Be careful! Any time you are transitioning from the treadmill to the floor, especially if you are maintaining a steady automated pace, take care in stepping on or off the machine. Use both hands on the handles and step from the side rails to the belt. Do not leave your treadmill going too fast to step on if your HIIT leaves your legs tired.
The hop-on, hop-off method is best used at a slow speed, alternating rounds of HIIT exercises and treadmill time with rests in between.
Warmup
60 seconds jogging or running
30 seconds kettle bell swing
30 seconds jumping jacks
30 seconds mountain climbers
30 seconds rest
Repeat
Cooldown
2. Treadmill HIIT Workouts
Here's another way to treadmill and HIIT at the same time: Slow-walk HIIT exercises on the treadmill. For example; high knee lifts, lunge-walking, and stretch-steps can be done on your treadmill at a very slow speed without the need to reset-to-center as with stationary floor exercises. You can alternate 30-second sets of the following walking exercises as part of a treadmill HIIT routine, or integrate these slow-walk exercises into a hop-on, hop-off routine.
Knee lifts
Knee hugs
Quad pulls
Butt kicks
High-knee jog
Walking curls
Walking overhead weights
Isometric walking
3. HIIT Treadmill Routines
You can also go HIIT on your treadmill without the usual aerobic exercises. HIIT simply means controlling the intensity of your exercise using 30 second intervals. For example, if you increase and decrease your speed to control intensity, you are still doing an HIIT workout, but without the mix of arm, leg, and core exercises that typically make up the routine type.
Warmup
2 minutes lateral walk slow
2 minutes lateral walk medium
1 minutes forward walk medium
1 minute forward walk rapid
2 minutes fast run
1 minute forward walk medium
2 minutes lateral walk medium
2 minutes lateral walk slow
Repeat
Cooldown
4. Warm Up, Go Running, Warm Down
Finally, you can use HIIT as your warmup and warm down routine around an intense cardio run. If you love to run, you don't want to give up that joy for an HIIT focus, but you don't have to give up HIIT to have a great run. Instead, do your warmup and stretch-out, then do a few rounds of HIIT to get yourself pumped and skip the long slow walk at the beginning of your treadmill run. Then let your body set your speed-up pace until you hit your ideal stride and complete a typical run for your preferred workout.
When you're done, finish up with another couple rounds of HIIT to warm-down before a typical stretch and cooldown routine.
Warmup
30 seconds knee twists
30 seconds burpees
30 seconds pushups
30 seconds kettle bell swing
30 seconds rest
Repeat X2
Warmup walk
5-30 minute run
Cooldown walk
30 seconds curtsy lunge
30 seconds mountain climber twist
30 seconds inchworms
30 seconds jumping jacks
Repeat x 2
Cooldown
Can you do HIIT workouts with your treadmill? Absolutely. You can HIIT with treadmill speeds, mix your favorite HIIT with treadmill walking and running, or do HIIT exercises at a slow walk on the treadmill. You can hop on and off the treadmill or build an entire HIIT routine on the belt. For more great treadmill workout ideas and best practices or to find the right treadmill for your at-home routine, contact us today!